(Thompsonville, MI) August 21, 2021 – Iron Fish Distillery announced today the limited release of the highly anticipated Estate Series line of spirits. The Estate Series spirits are 100% distilled and aged at Iron Fish Distillery, many of which use at least 51%  grain  grown on the company's 120 acre farm. Iron Fish is Michigan's first distillery operating on a fully functioning farm since prohibition, and the Estate Series is the realization of a plan laid at the founding of the business; to create high quality craft spirits from scratch, using only the finest grains and local ingredients. The spirits of the Estate Series embody the water, land, and agricultural bounty of northern Michigan. The five year wait is over. 
To commemorate the Estate Series releases, Iron Fish commissioned the design of a custom molded bottle to distinguish the Estate Series from the current lineup of Iron Fish spirits.
"From the day we reclaimed an abandoned farm to establish Iron Fish Distillery, we committed ourselves to making whiskeys, where every step, from growing grain to barrel aging occurs onsite." said Richard Anderson, co family owner.   "The only question was, could we afford to patiently wait?" said Anderson.  The success of the end destination, spirit sales, including  barrel finished sourced bourbons provided the answer.  "While there's been pressure and temptation to release the Estate Series earlier, we felt it was important to let time do the work and introduce the Estate Series when they were truly ready. That time is now."
The Estate Series spirits represent not only the local agricultural bounty, but also the many collaborations with area farms and small businesses that made the Estate Series possible.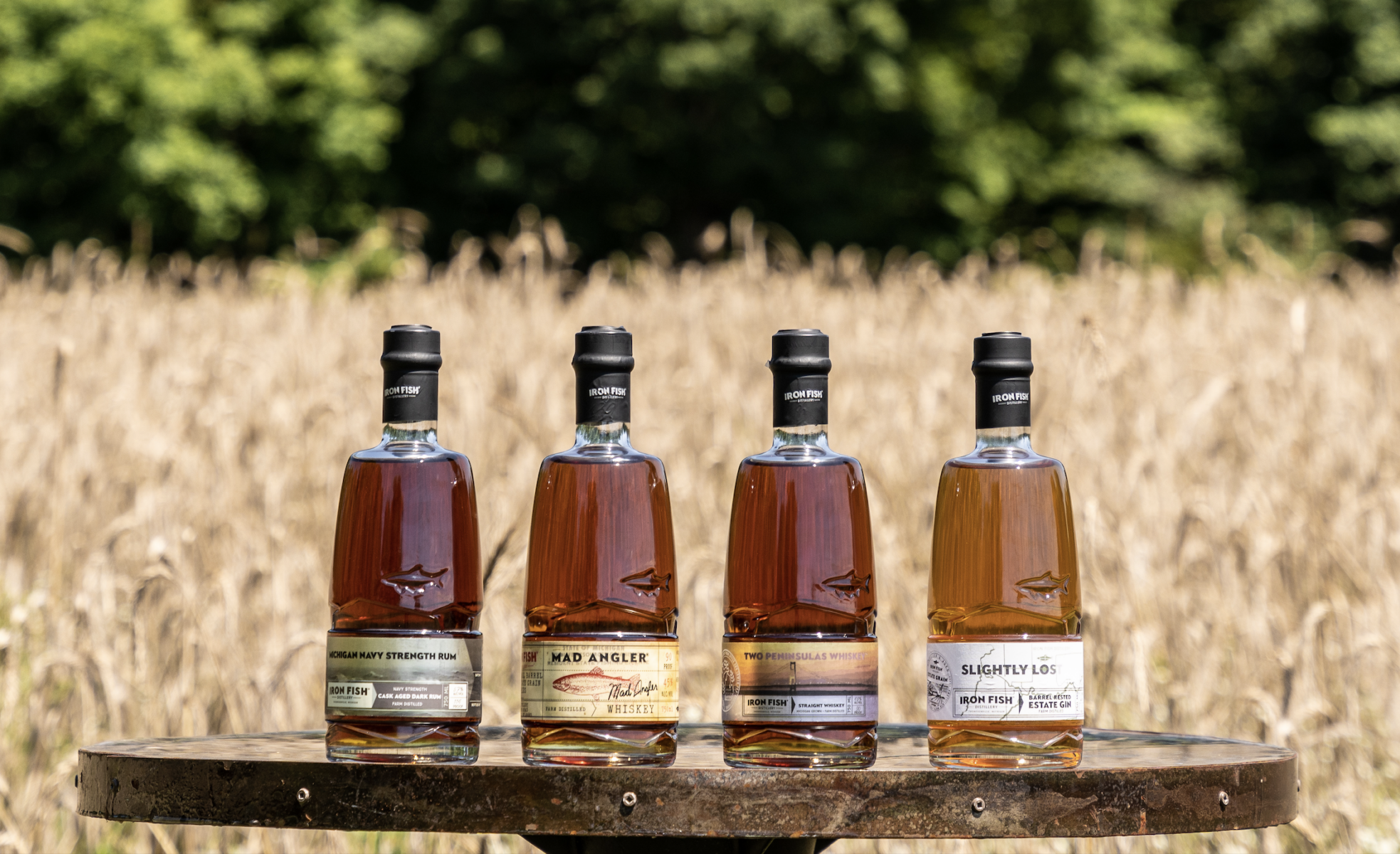 Estate Spirits Release
There will be less than 1000 cases available for this first batch of spirits. All Estate Series spirits will be available Thursday, September 2nd at the distillery and available for pre-order online purchase at https://store.ironfishdistillery.com/ All web-store orders must be picked up at the distillery. The Estate Series spirits will be available in very limited quantities at select accounts throughout Michigan in mid-September. 
Mad Angler Whiskey – See Video with Michael Delp
Inspired by the writings of Northern Michigan poet Michael Delp, Mad Angler Whiskey contains a mash bill of 51% Iron Fish farm Jupiter winter wheat, 26% Whispering Meadows Ranch organic yellow corn, 14% Great Lakes Malting Co. malt barley, and 9% Iron Fish farm rye. 
Tasting notes:  
Appearance:  Amber and gold 
Nose: Fresh warm honey bread, strong clove and summer cedar
Palette: Hot carmel, oak wood, vanilla and orange citrus
Finish: Vanilla, spice and a long warm smooth finish 
Two Peninsulas Whiskey – 
This whiskey is quite possibly the first to exclusively use grain from both Michigan's Upper and Lower Peninsulas. The mash bill contains 51% Iron Fish farm Jupiter winter wheat, 44% Belsolda Farms rye from the Upper Peninsula, and 5% Great Lakes Malting Co. malt barley.
Tasting notes:  
Appearance:  Amber and gold
Nose: Vanilla, aramel, rye, pepper, sweetness
Palette: Citrus, light almond, oak grass, lemon
Finish: Sweetness, spice from rye, caramel
Slightly Lost Barrel Rested Gin – 
With so many guests  "getting slightly lost"  on their journey to Iron Fish Distillery, we named this barrel rested gin for the experience of getting lost in the flavors of this unique style of gin.. The mash bill is 51% Iron Fish farm Jupiter winter wheat and 49% winter wheat from local northern Michigan farms.
Appearance:  Luminescent Goldenrod 
Nose: Cedar, clove and orange
Palette: A blend of cadamone, distant pine and grilled  orange and citrus
Finish: Hints of whiskey barrel, licorice and almond.
Michigan Navy Strength Rum- 
Surrounded by the Great Lakes, Michigan deserves its own Navy Strength Barrel Finished Rum. Bottled at 57% abv, it was aged in sherry and cognac barrels, offering a dark, rich characteristic reminiscent of the rums carried on board ships in the 19th century. The Mash bill is made of 100% Caribbean molasses.   
Tasting notes:  
Appearance:  Light reddish amber 
Nose: Sherry wine and burnt brown sugar 
Palette: Warm molasses, caramel apple and oaked sherry wine.
Finish: Raisins, plums and clove spice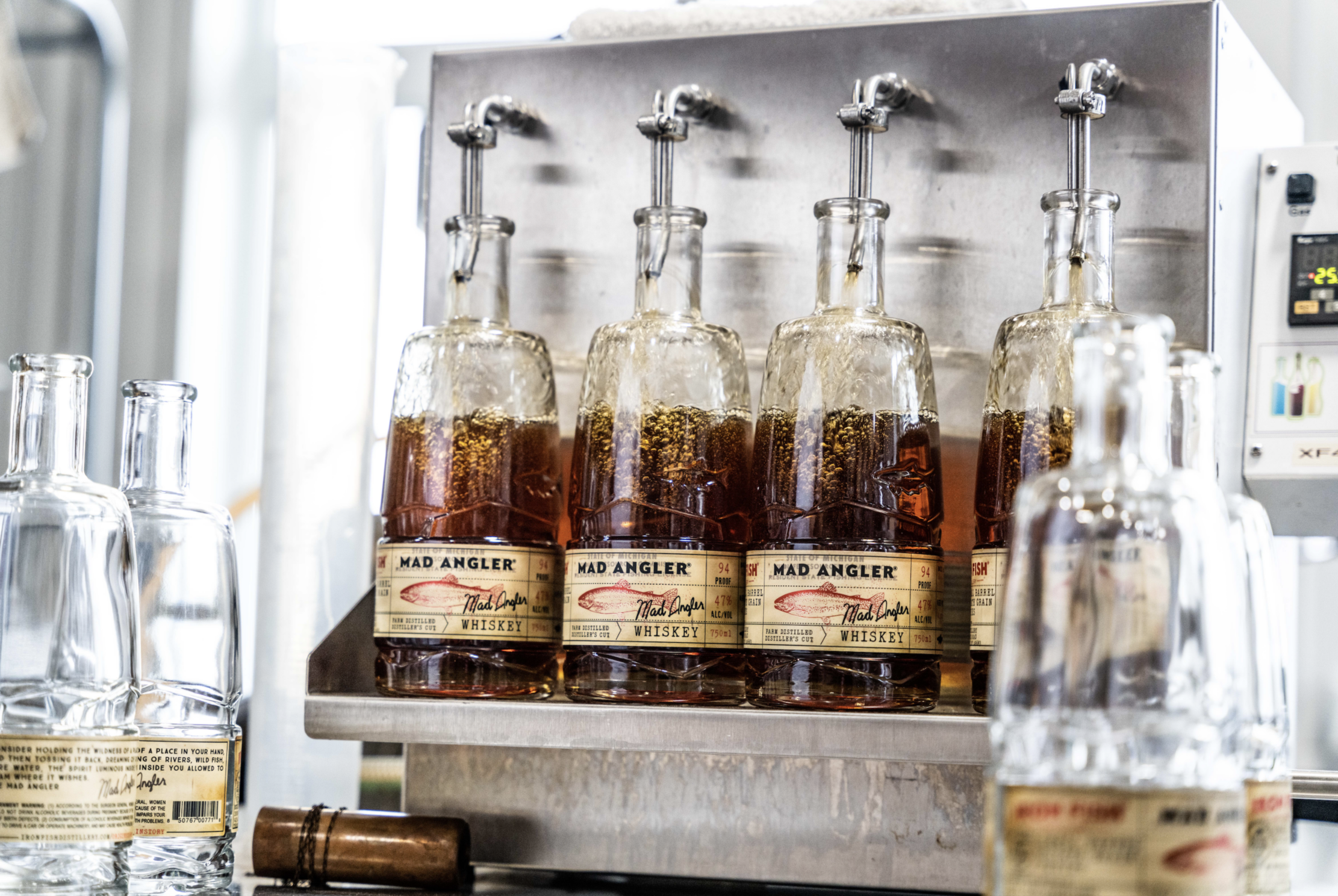 About Iron Fish
Iron Fish Distillery was founded in 2016 and is Michigan's first farm distillery. Located on a 120 acre farm along the Betsie River watershed, we are "Returning Spirit to Its Origin" by creating a line of estate spirits, distilled from the ground up on our farm. Our name is inspired by the steelhead that live in Lake Michigan and return to their origin in the Betsie River to spawn.
Every step of our soil-to-spirit process occurs onsite. The process starts in our farm fields where we grow and harvest our own grain. We then mill, mash, ferment, distill, and barrel age our spirits on the property. Iron Fish also sources bourbon for finishing in barrels from around the world.  To date, our library of barrel aged spirits exceeds 1,000 barrels, consisting of carefully sourced farm barrel finished whiskies and estate whiskies distilled from grain grown on our farm and from nearby farms.