THIS IS IRON FISH
Iron Fish Distillery was founded in 2016, as Michigan's first farm distillery growing grain and distilling spirits, and barrel finishing sourced whiskey. Located along the Betsie River watershed, home of the Steelhead. This MAEAP certified working farm and distillery attracts over 100,000 guests annually to the agricultural destination, reborn on a long-time abandoned 120-acre farm located in rural Springdale Township in Manistee County.
Every step of our soil-to-spirit process, starting in our farm fields where we grow and harvest our own grain to milling, mashing, fermenting and distilling and barrel aging occurs on site. Iron Fish also sources bourbon for finishing in barrels from around the world.  To date, our library of barrel aged spirits exceeds 2,400 barrels, consisting of carefully sourced farm barrel finished whiskies and estate whiskies distilled from grain grown on our farm and from nearby farms. 
RETURN TO THE RIVER
Come tour Iron Fish for a taste of exceptional spirits, locally harvested and passionately produced and distilled in small production runs. We take our inspiration from the powerful, determined and strikingly beautiful Steelhead fish that run the Betsie River nearby. As the Steelhead return each year, we bring back the heritage and unique flavors of American small farm distilled spirits.
The two-generation farm along the Betsie River watershed went quiet for over two decades. Having grown up vacationing nearby, we knew the spirit of the landscape and wanted to do what we could to preserve it. We purchased the farmland in 2011, without purpose until 2013, when a trip to Northern Scotland changed our course. There, we drew inspiration from distilleries generations old and from a farm distillery on the Island of Islay. From this inspiration, Iron Fish Distillery came to life – and vitality has come back to this farmland through our long-shared family passion of craft spirits. Beyond family founders, our success lies in the hearts and skills of our team and in our shared commitment to give back to our community and protect the land.
~ Heidi Bolger & David Wallace, Sarah & Richard Anderson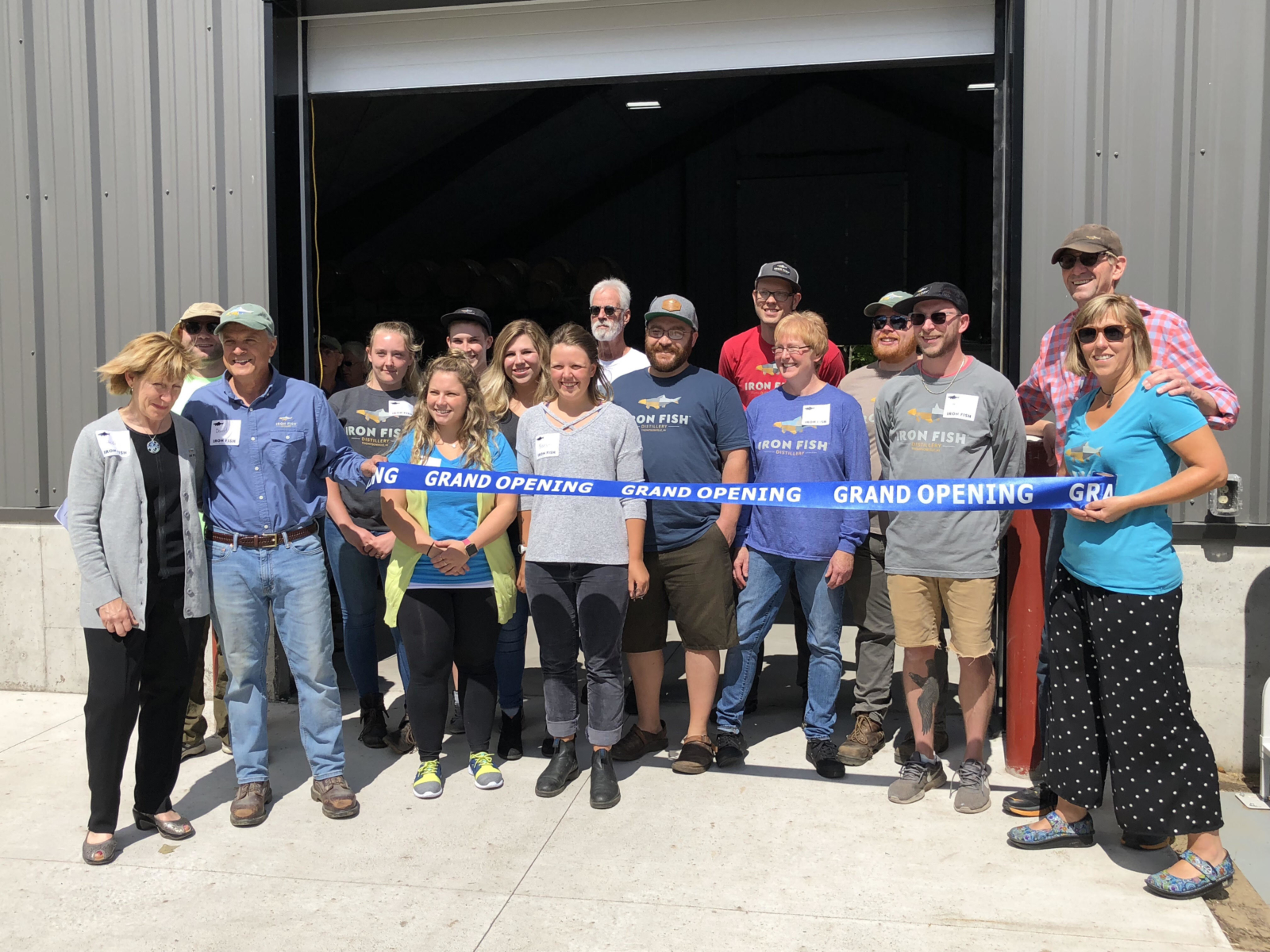 GRAIN TO GLASS - OUR PROCESS
+ SUSTAINABLE SPIRITS PLEDGE
Even before Iron Fish Distillery produced its first bottle of spirits, we decided that our production and business practices would be as sustainable as possible. We would restore and protect the land, water, and air we depend on—not just to do less harm, but to do more good.
We would rebuild the health of the soil on the 120-acre abandoned farm we were bringing back into production. We would use farming practices that protect the surface and ground water of the Betsie River watershed, our home. We would reduce our carbon footprint by installing solar panels and state-of-the-art heat pumps that extract heat from the air, without burning fuel. We would plant trees, compost organic material, use spent mash (high protein, low sugar) as feed for bison, and recycle what's used in the distillery and tasting room.
All of this has come to pass. Our farming practices have been certified by the Michigan Agriculture Environmental Assurance Program. Our solar panels produce 7,000 kilowatt hours of electricity annually, adding to the Michigan-leading renewable energy we obtain from Cherryland Electric. Our planting of cover crops—clover, winter peas, forage turnips, and more—improves soil health naturally and acts as a carbon sink. Our farm fields act as a carbon sink. We also manage and preserve 47 acres of maple forests. And we reduce our water footprint by limiting irrigation.
But there is always more that we can do. So we are piloting the planting of Sunn Hemp as a cover crop with accelerated production of nitrogen and organic matter to build up the soil and capture more carbon. We are starting a conversation with glass suppliers and label printers to increase recycled content. We are also looking at ways to capture more of the carbon produced in the distilling process.
This is Iron Fish's "Sustainable Spirits" pledge to our customers, partners, community and Mother Nature:
We will continue to reduce our reliance on fossil fuels.
We will use renewable and recyclable materials as much as possible.
We will use sustainable farming methods.
We will maintain our forests in a sustainable manner.
We will always strive to be better and better stewards of our watershed and ecosystem.
+ OUR FIELDS AND GRAINS
+ OUR PRODUCTS
+TOURS
WE'RE GOING AGAINST
THE GRAIN TO DELIVER
THE UNEXPECTED.