THE ESTATE SERIES
The Estate Series is made of a line of spirits that are 100% distilled and aged at Iron Fish Distillery. As Michigan's first distillery operating on a fully functioning farm since prohibition, our goal from the beginning has been to return spirit to its origin, on the farm. The spirits of the Estate Series embody the water, land, and agricultural bounty of northern Michigan. The five year wait is over. Cheers to the next step in the journey.
ORDER BATCH #1 TASTING ROOM SPIRITS HERE

MAD ANGLER WHISKEY®

750ml / 

90 Proof
CONSIDER HOLDING THE WILDNESS OF A PLACE IN YOUR HAND, AND THEN TOSSING IT BACK, DREAMING OF RIVERS, WILD FISH, PURE WATER, THE SPIRIT LUMINOUS INSIDE YOU ALLOWED TO ROAM WHERE IT WISHES. 
THE MAD ANGLER.
Appearance:  Golden amber
Nose: Fresh warm honey bread, strong clove and summer cedar
Palette: hot caramel, oak wood,  vanilla and orange citrus 
Finish: vanilla, spice and a long warm smooth finish.
MASH BILL: 
51% Iron Fish Jupiter winter wheat 
26% Whispering Meadows Ranch organic yellow corn 
14% Great Lakes Malting Co. Malt Barley
9% Iron Fish rye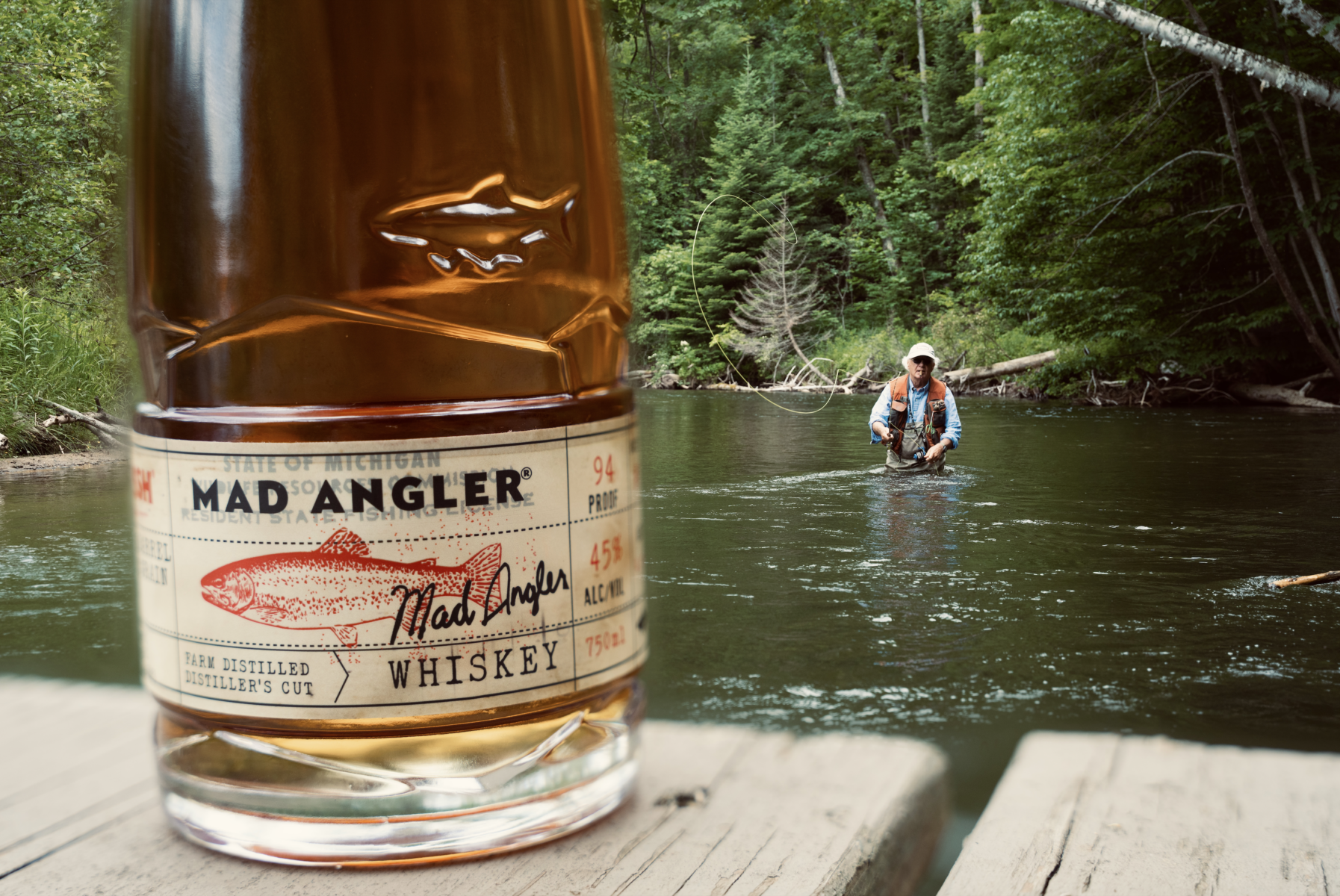 TWO PENINSULAS WHISKEY   
750ml / 
90 Proof
IN HOMAGE TO BRIDGES AND THE LANDS THEY PAIR, WE OFFER THIS UNIFYING AND STURDY ELIXIR, DISTILLED FROM OUR FARM ESTATE-GROWN WINTER WHEAT, MICHIGAN'S UPPER PENINSULA HEARTY RYE, AND A PASSION FOR DEEP CONNECTIONS. 
Tasting notes:  
Appearance:  Amber and gold
Nose: Vanilla, caramel, rye, pepper, sweetness
Palette: Citrus, almond honey, oak grass, lemon
Finish: Sweetness, spice from rye, caramel
MASH BILL:
51% Iron Fish estate  grown Jupiter Winter Wheat 
44% Upper Peninsula, Belsoda Farms Rye
5% Great Lakes Malting Co. Malt Barley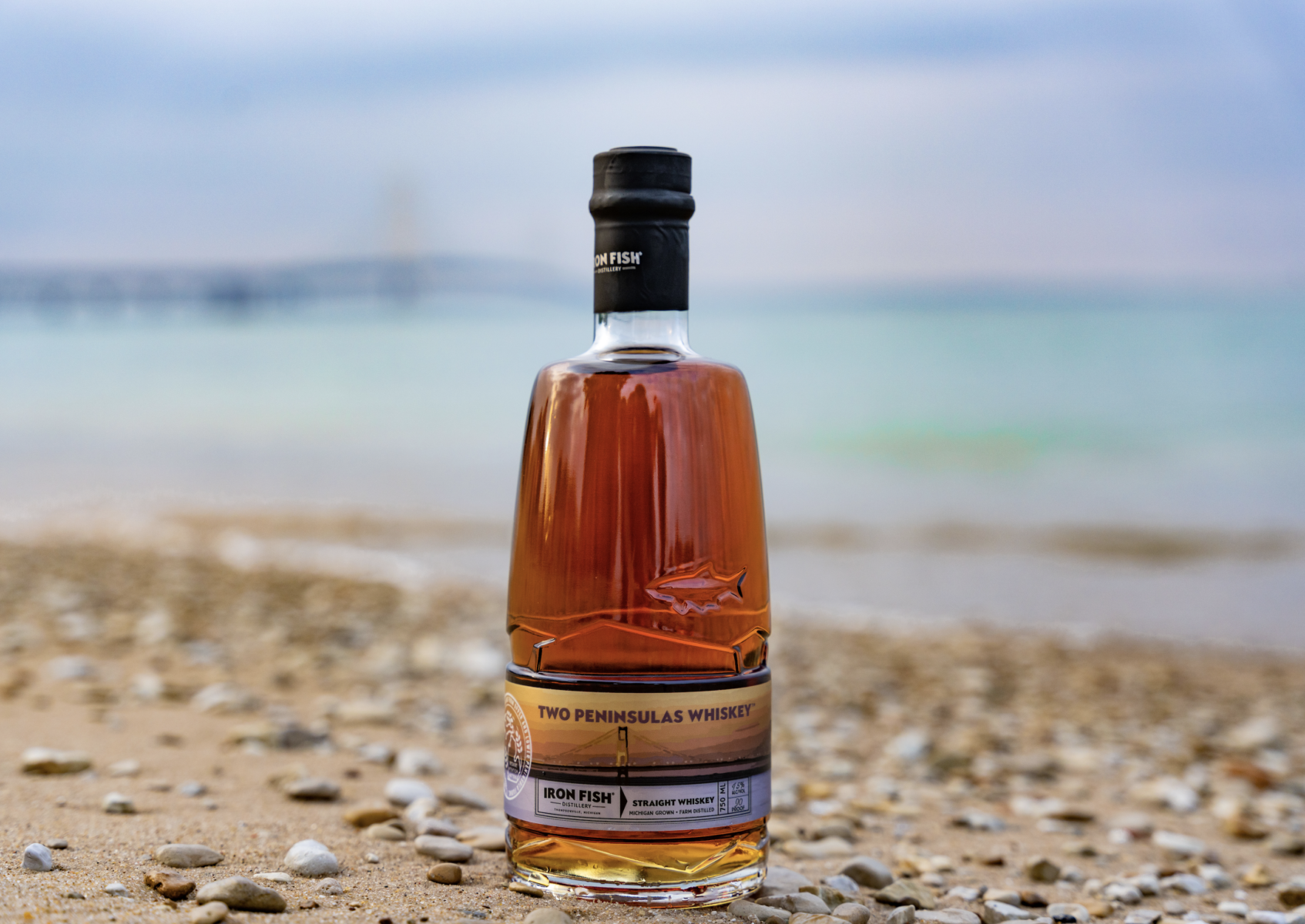 SLIGHTLY LOST BARREL RESTED GIN   
750ml / 
90 Proof
OUT OF OUR MINDS AND OUT OF THE WILDERNESS EMERGES OUR BARREL RESTED ESTATE GIN.FROM OFF THE BEATEN PATH, ANTIOCH TREE FARM FIRS AND BACKCOUNTRY BOTANICALS STUMBLE UPON OUR OWN FIELD-SOWN JUPITER WINTER WHEAT. THEY WANDER TOGETHER AIMLESSLY INTO CHARRED AMERICAN OAK BARRELS, ONLY TO APPEAR WITH A BIT OF LOCAL COLOR. REVEALING A TASTE FAMILIAR, YET DISTANT, AND FEELING FAR FROM ORDINARY. WAITING TO BE FOUND… SLIGHTLY LOST. 
Appearance:  Luminescent Goldenrod 
Nose: Cedar, clove and orange
Palette: A blend of cardamon, distant pine and grilled  orange and citrus
Finish: Hints of whiskey barrel, licorice and almond
MASH BILL:
51% Iron Fish estate grown Jupiter winter wheat 
49% winter wheat from Michigan farms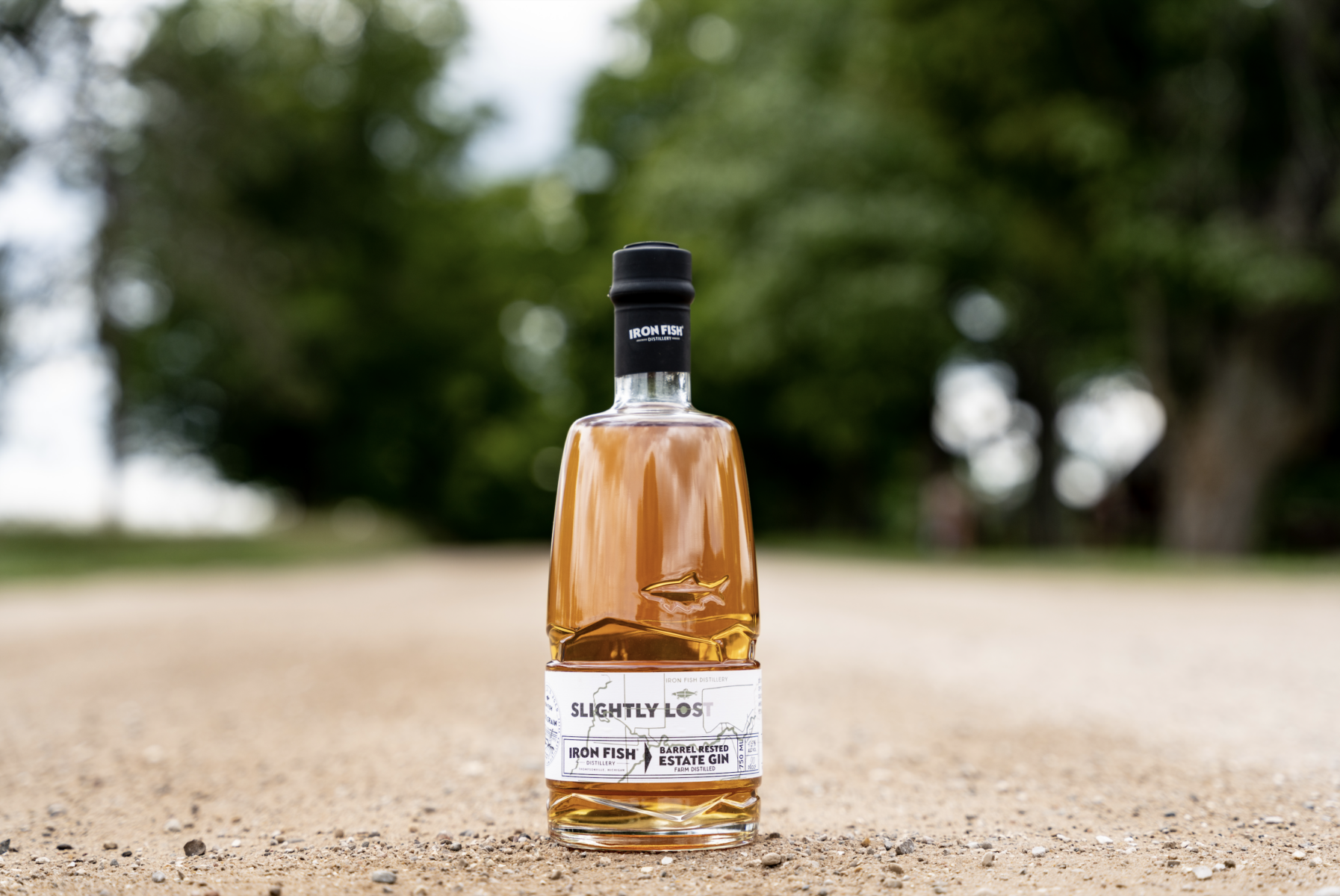 MICHIGAN NAVY STRENGTH RUM
750ml / 114

 Proof
THIS AUTHENTIC MOLASSES CARIBBEAN STYLE RUM FINDS FRESH WATER AND HONEY HINTS OF IRON FISH FARM FIELDS AND THISTLE. NAVY STRENGTH RUM PROUDLY CELEBRATES THE ART OF CASK SELECTION AND THE DISCIPLINE OF SETTING AND HOLDING A TRUE COURSE. NAVIGATE WITH PURPOSE
Tasting notes:  
Appearance:  Light reddish amber 
Nose: Sherry wine and burnt brown sugar 
Palette: Warm molasses, caramel apple and oaked sherry wine
Finish: Raisins, plums and clove spice
MASH BILL: 
100% Caribbean Molases