Labor Day Weekend Anniversary Party Features Live Music, Barrel Building, Family Fun and Mad Angler Estate Spirit Release.
(Thompsonville, MI) August, 2023 – To mark its 7th year, Iron Fish will re-release the Mad Angler® Bourbon, Rye and Bottled in Bond estate whiskies and celebrate completion of a major commitment to triple production capacity of its estate whiskey, requiring over a $1M investment in new equipment and facility improvements. Iron Fish will host its 7th Anniversary Party over Labor Day Weekend, Thursday, 8/31 through Sunday, 9/3.
The anniversary party will kick off on Thursday, August 31st with a ticketed special event, An Evening With Mad Angler. Join us for a very special estate whiskey release celebration, tasting and intimate discussion with Iron Fish family founders along with writer Michael Delp, author of the Mad Angler poems, committed advocate of rivers and Boardman River fly fisherman. Tickets can be purchased HERE.
The weekend will be packed with fun, spirits, cocktails, food and refreshments, games and live music. The schedule of events can be found on its website and includes:
8/31 Thurs – 3-9pm
An Evening with Mad Angler | 6-8pm
Live Music with Nicholas Veine | 6-8pm
9/1 Fri – 12-9pm
Whiskey Barrel Making with Croze Nest | 3pm
Live Music With Jacob Wolfe & Olivia Kimes | 6-8pm
9/2 Sat – 12-9pm
Face Painting | 1-5pm
Bagpipe Blessing of the Spirits | 1:30 
Children's Pinata | 6pm
Birthday Cake & Candles | 7-8pm
Live Music With Wink | 6-8pm
9/3 Sun – 12-8pm
Horse Drawn Wagon Rides from Fantail Farm | 4-7pm
Live Music with Ethan Bott | 6-8pm
9/4 Mon – Closed
Free Tours For Flycaster & Steelhead Members Thursday – Sunday.
About the Mad Angler Whiskey Release:
Mad Angler Bourbon, Mad Angler Rye Whiskey, Mad Angler Bottled in Bond Whiskey distilled from grain grown at Iron Fish and Michigan farms.
Mad Angler Bourbon 94 Proof 
Available exclusively at the distillery.
Organic Corn
Winter Wheat from Iron Fish Farm
Northern Michigan Barley
Winter Rye from Iron Fish Farm
Mad Angler Rye 92-94 Proof 
Available at the distillery and select MI retailers.
Iron Fish Rye
Malted Barley
Mad Angler Bottled-In-Bond 100 Proof 
Available at the distillery and select MI retailers.
Iron Fish Farm Winter Wheat
Upper Peninsula Rye
Northern Michigan Malted Barley
Northern Michigan Corn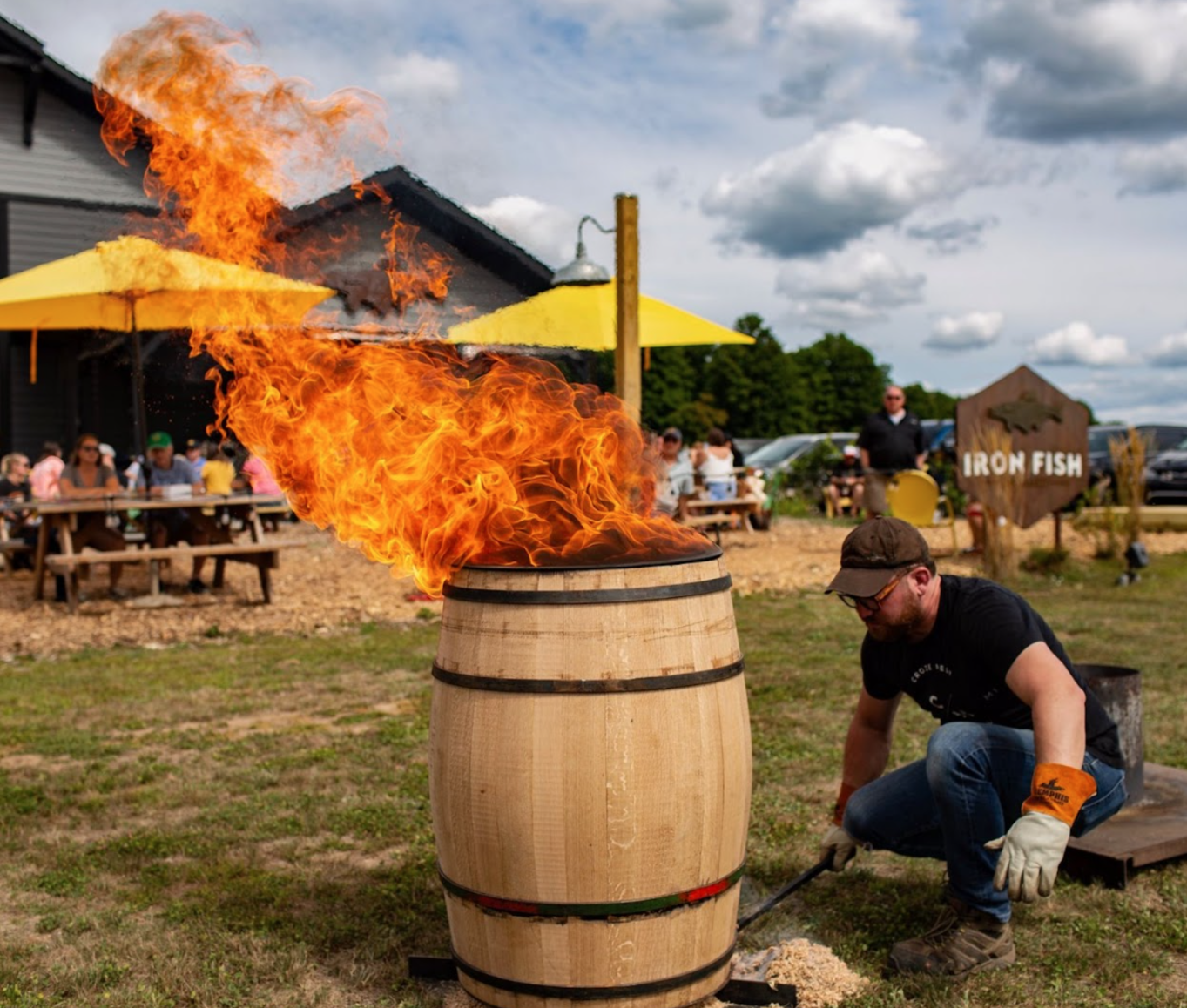 Since 2015, Iron Fish has grown and harvested grain on its farm, as well as purchased grain from Michigan farmers to distill spirits and age whiskey. While waiting for its estate whiskies to age, Iron Fish distilled vodka and gin from Michigan grain and also sourced whiskey for its celebrated line of barrel finished whiskies, created and aged in three barrel rack houses on the farm.
Iron Fish Distillery is Michigan's first farm distillery, attracting over 150,000 guests annually to its agricultural end destination in Thompsonville. Named for the Steelhead, Iron Fish is situated on the scenic and protected Betsie River where it operates a third party environmentally verified farm, through the Michigan Agriculture Environmental Assurance Program.
Iron Fish spirits are distributed in Michigan, Wisconsin, IL and Colorado and home delivered in 38 states by the digital spirits retailer Big Thirst
About Iron Fish Distillery
Iron Fish Distillery was founded in 2016, as Michigan's first farm distillery, growing grain and distilling spirits, and barrel finishing sourced whiskey. This third party environmentally audited  working farm and distillery attracts over 150, 000 guests annually to the agricultural destination, reborn on a long-time abandoned 120-acre farm located in rural Springdale Township in Manistee County.
Named for the Steelhead that journeys up the nearby Betsie River,  every step of the Iron Fish  soil-to-spirit process occurs onsite. The process starts in  farm fields where the distillery grows and harvests its own grain.  Milling, mashing, fermenting, distilling, and barrel aging is on full display for visitors.  Iron Fish also carefully sources bourbon for finishing in barrels from around the world.  To date, their library of barrel aged spirits exceeds 2,500.