(Thompsonville, MI) May, 2023 – Iron Fish Distillery and Short's Brewing have announced a collaboration to create a new fruit-infused vodka that will bring together the best of both worlds. The two companies, both known for their high-quality, innovative products, have combined their expertise to create a unique and flavorful spirit that is sure to please vodka enthusiasts and craft beer lovers alike.
The Soft Parade® fruit-infused vodka will be made using the same fruit selected for Soft Parade® Beer. The result will be a one-of-a-kind vodka that combines the smoothness of traditional vodka with the subtle natural flavors of real strawberries, blueberries, blackberries, and raspberries—just like real fruit, this Vodka is best enjoyed fresh.
"We're thrilled to be working with Short's Brewing on this exciting project," said Richard Anderson Co-founder, Iron Fish Distillery. "Our two companies share a passion for creating products that are both unique and high-quality. This collaboration is a perfect example of how two local businesses can come together to create something truly special."
The fruit-infused vodka will be available for purchase at select retailers for a very limited time, as a seasonal Michigan release, on store shelves starting in May. When it's gone it's gone.
A release party for Soft Parade® Vodka will be the weekend of April 28th at Iron Fish Distillery. A limited supply of bottles will be available at the Iron Fish Distillery, Thompsonville tasting room, with the first 60 bottles sold, signed by Joe Short! *Soft Parade® Vodka will not be available for sale at either of Short's northern Michigan locations.
Order online for pick up at the distillery HERE.
Cocktail Recipes:
ironfishdistillery.com/softparadecocktails/
For more information contact: sales@ironfishdistillery.com
Soft Parade Vodka / 750ml / 80 Proof
Vodka Infused with Real Fruit
Our connection to Short's Brewing flows long and true, guided by our mutual passions for all things Northern Michigan. We are inspired by our similar crafts to create flavor profiles meant to surprise and delight. Experience the deep berry flavors of Short's renowned Soft Parade Fruit Ale reimagined in a superb spirit, made from rye grown in Michigan. Real strawberries, blueberries, blackberries, and raspberries greet your palate for enjoyment on the rocks or in any imaginative way you can dream up. Get creative, in the true spirit of both our companies.m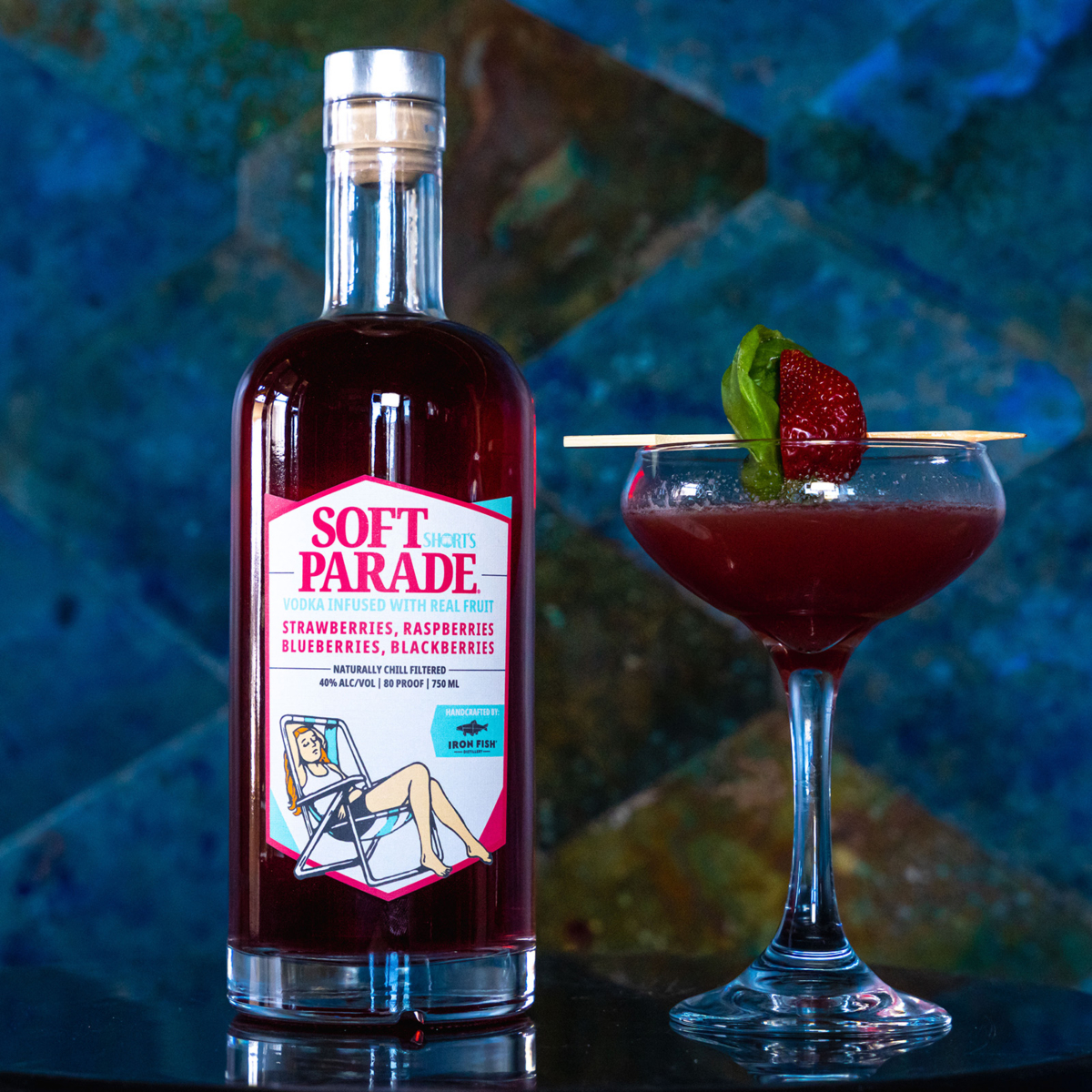 Where to buy Soft Parade in Michigan
Upper Peninsula
Northern Michigan
Mid Michigan
Southeast Michigan
Southwest Michigan
Upper Peninsula
Jim's Foodmart – Houghton
T & T Liquors – Houghton
Tadych's Marketplace – Houghton
Great Lakes Fresh Market – Marquette
Johnny's Corner Store – Marquette
Meijer – Marquette
Spirits Inc – Marquette
Superior Blue Link – Marquette
Super One Foods – Marquette
Tadych's Marketplace – Marquette
The Neighborhood Spot – Marquette
Vangos Inc – Marquette
White's Party Store – Marquette
Jack's Fresh Market – Menomine
Hillside Party Store – Munising
Super One Foods – Negaunee
Bear Wireless Unlimited – Sault St Marie
Meijer – Sault St Marie
Family Fare #1530 – St Ignace
Northern Michigan
Mid Michigan
Southeast Michigan
Southwest Michigan
About Iron Fish Distillery
Iron Fish Distillery was founded in 2016, as Michigan's first farm distillery, growing grain and distilling spirits, and barrel finishing sourced whiskey. This third party environmentally audited  working farm and distillery attracts over 125,000 guests annually to the agricultural destination, reborn on a long-time abandoned 120-acre farm located in rural Springdale Township in Manistee County.
Named for the Steelhead that journeys up the nearby Betsie River,  every step of the Iron Fish  soil-to-spirit process occurs onsite. The process starts in  farm fields where the distillery grows and harvests its own grain.  Milling, mashing, fermenting, distilling, and barrel aging is on full display for visitors.  Iron Fish also carefully sources bourbon for finishing in barrels from around the world.  To date, their library of barrel aged spirits exceeds 2,500. 
About Short's Brewing
Located in the heart of Downtown Bellaire, MI, Short's Brewing was established in 2004 by Joe Short. In 2009, Short's began keg and bottle distribution in Michigan via their Elk Rapids Production Facility. The brewery is known widely for its Always Available and experimental brews including Soft Parade, Local's Light, and Huma Lupa Licious and non-alcoholic sparkling hop water, Thirst Mutilator. Short's prides itself on producing fearlessly creative beers, handmade by people who care in Northern Michigan. 
Short's Brewing also has a passion for beverage innovation and created Starcut Ciders in 2014 to push the boundaries of ingredients and fermentation innovation to create unique, premium ciders with no added sugars that are all-natural and gluten-free.