(Thompsonville, MI) December, 2021 –  Iron Fish Distillery swept  top honors at the American Craft Spirits Association national convention last month in Louisville in both packaging and Best in State – Bourbon Whiskey.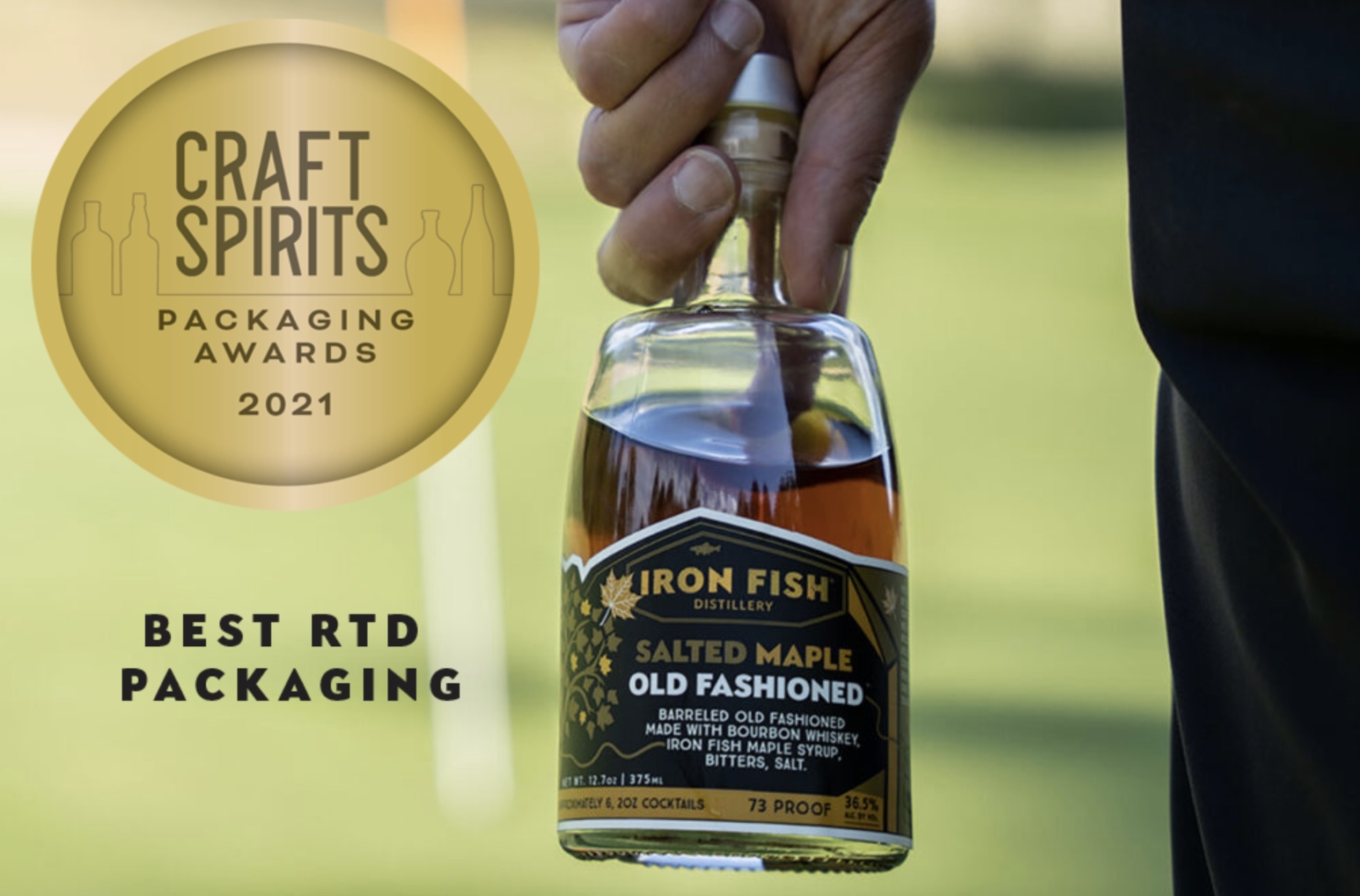 The second annual CRAFT SPIRITS Magazine packaging competition celebrated excellence and creativity in the design of craft spirits labels and packaging. The competition drew 150 entries from more than 70 companies. An esteemed panel of judges evaluated entries using four criteria, including aesthetics, innovation, emotional appeal and brand communication. Michigan-based Iron Fish Distillery, was a stand-out across numerous categories, most notably winning a Gold medal in the Portfolio category and a Gold medal in the Ready-to-drink category for  Salted Maple Old Fashioned.  Iron Fish also won a Silver for their Mad Angler Whiskey, a Bronze for their Two Peninsula Whiskey, a Silver for their Michigan Navy-Strength Rum, and Honorable Mention  for Slightly Lost, their barrel aged gin.  Product labeling was designed in-house by Jesse Den Herder, Creative Director for Iron Fish and printed by Artex Label & Graphics, Zeeland Michigan. The portfolio bottle was designed by Studio One Eleven in Chicago and custom molded and produced by Berlin Packaging.
The Heartland Whiskey Competition is a biennial, blind-tasting judging event sponsored by 17 participating state corn associations, including Michigan. Competition in several whiskey categories is open to craft distillers from all 50 U.S.states and territories.  Iron Fish Distillery was awarded the top honor, Best of State for their Bourbon Whiskey Finished in Mezcal Barrels.  "Best of State" Michigan award sponsorship was made possible by the Corn Marketing Program of Michigan.  "Michigan's farmers are proud to grow the corn that local distilleries like Iron Fish use to produce high-quality and delicious spirits," said Jim Zook, executive director of the Corn Marketing Program of Michigan. "Supporting the Heartland Whiskey Competition is a way for us to highlight the interconnectedness of Michigan's vibrant craft beverage and agriculture sectors. On behalf of Michigan's corn farmers, I want to congratulate Iron Fish Distillery for winning the Best in State Award for their bourbon!"
"Earning top awards at the conference in Louisville for our bourbon and packaging is the culmination of many talents, all focused on making sure that what's in the bottle is as exceptional as how the bottle looks."  said Richard Anderson, co-owner  at Iron Fish Distillery.  At Iron Fish, we have always believed art and spirit go together!" said Anderson. 
About Iron Fish
Iron Fish Distillery was founded in 2016 and is Michigan's first farm distillery. Located on a 120 acre farm along the Betsie River watershed, we are "Returning Spirit to Its Origin" by creating a line of estate spirits, distilled from the ground up on our farm. Our name is inspired by the steelhead that live in Lake Michigan and return to their origin in the Betsie River to spawn.
Every step of our soil-to-spirit process occurs onsite. The process starts in our farm fields where we grow and harvest our own grain. We then mill, mash, ferment, distill, and barrel age our spirits on the property. Iron Fish also sources bourbon for finishing in barrels from around the world.  To date, our library of barrel aged spirits exceeds 1,000 barrels, consisting of carefully sourced farm barrel finished whiskies and estate whiskies distilled from grain grown on our farm and from nearby farms.